Working with customers and local residents to build a bright future under a slogan of "bringing greater comfort to the world"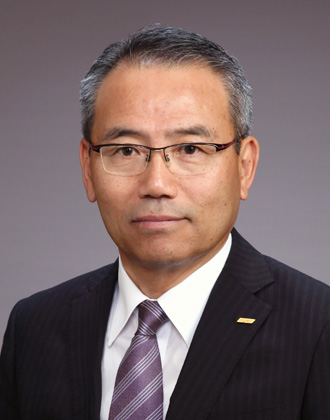 Yuzo Fujita
President
I would like to express my thanks for your kind and loyal patronage.
Toenec was created in October 1944 with the merger of 23 electrical construction businesses to take on the construction of electric power infrastructure. Since our foundation, our mission has been to "support society and safeguard living conditions." This mission has been passed down carefully as part of Toenec's DNA.
Over the years, Toenec has expanded and diversified its business to meet the needs of its customers as they changed with the times. The Toenec Group, as a group of engineering and construction companies, is engaged in a wide range of businesses, from the construction of power supply, electrical, air-conditioning ducting and sanitation, and information communication equipment, to energy businesses such as solar power generation and residential equipment installation. With our wealth of experience and technological capabilities, we provide a one-stop service, from planning and design to maintenance and energy-saving proposals.
We began expanding our business into overseas markets in the 1970s, using the technologies cultivated in Japan to support our customers' overseas businesses. In recent years, we have also participated in ODA projects in Southeast Asia and elsewhere, contributing to the development of developing countries.
In addition to the construction of social infrastructure, Toenec hopes to contribute to solutions to social issues such as the realization of a carbon-free society and the achievement of the SDGs and to growth sustainably together with our customers.
Striving also for thorough compliance and the strengthening of our corporate governance, we will continue to operate our company fairly and in good faith. To foster a workplace environment in which each and every one of our employees, who are the precious assets and driving force of the company, can work and flourish with vitality, we will further promote work style reforms and diversity initiatives.
Under our slogan of "bringing greater comfort to the world, " all of us at Toenec will unite in our efforts to remain a company that is trusted by our stakeholders.
Going forward, your continued support and patronage is highly appreciated.